Dead Turkey in coffin – Happy Halloween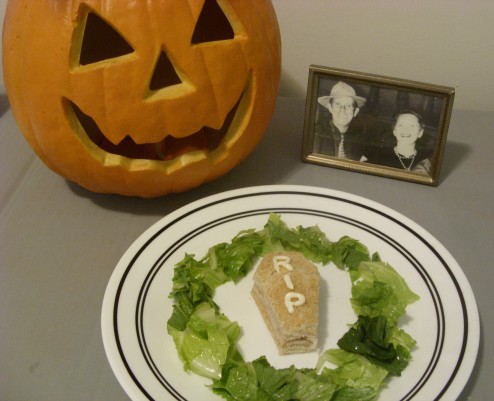 Crustless in its form, shaped into the box in which many stories end, this small sandwich might spook people at your party. It is toasted wheat with mayonnaise lightly coating the inside, filled with turkey. Save enough for the top, to spell out the instantly recognizable prayer we have for all dead. Munch on enough of these sandwiches and perhaps the tryptophan will escort you to a sleepy lull where you can rest in some peace. But don't get tired of turkey– Thanksgiving is coming soon.
—— Bonus ——
So simple, but so sweet. A cookie cutter can take your plain peanut butter and jelly and transform it into a fun, spooky treat. Pull out your big cookie cutters and press them through your favorite bread. Don't scare the kids with how delicious it is!
---